New England Professional Picture Framers
March Meeting, Sunday, March 2nd, Currier Museum of Art, Manchester, NH
Susan Jackson of Harvard Art gave a presentation on Period Frames and their Conservation at the March meeting of the New England Professional Picture Framers Association which was held at the Currier Museum of Art in Manchester, New Hampshire.
Some of the distinctive frames in the collection of the Currier are Boston frames from the early 20th Century by Carrig-Rohane and Foster Brothers:
Edmund Tarbell, Summer breeze, 1904, Currier Museum of Art, in a Carrig-Rohane frame
Edmund Tarbell, Mercie cutting flowers, 1912, Currier Museum of Art, in a Foster Brothers frame
Frank W. Benson, Portrait of Mary Spencer Fuller, 1914, Currier Museum of Art, in a Foster Brothers frame
AIC Cross-Country Visit to Cuba
Santiago de Cuba, Bayamo, Camaguey, Trinidad de Cuba, Cienfuegos, Havana
Sue Jackson was delighted to be part of a research trip to Cuba organized by the American Institute for Conservation of Historic and Artistic Works in early 2014. Over twelve days this group of American conservators met with Cuban conservators, architects, and preservationists working throughout the island on various projects from architecture to paintings conservation. They also visited seven of Cuba's eight UNESCO World Heritage Sites.
One of the largest carved and gilded objects Sue saw on this adventure was this altar piece from the Chapel of Our Lady of Sorrows in Bayamo which is being conserved/restored by a group of Italians and Cubans.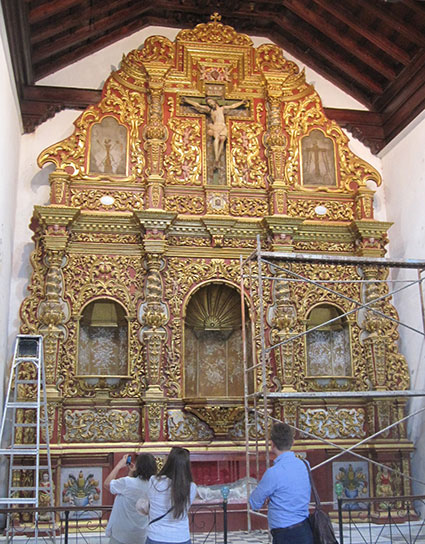 Salon Dore of the Hôtel de la Trémoille
Legion of Honor, Fine Arts Museum of San Francisco
For two weeks in August, 2013 Sue traveled to San Francisco to lend a hand in the conservation of the The Salon Doré at the Legion of Honor, Fine Arts Museum of San Francisco. The Salon is one of the finest examples of French neoclassical interior architecture anywhere and has richly carved and gilded ornament. It was a great opportunity to work with other gilding conservators, exchange techniques and make further progress on this fabulous year plus long project. The Salon is scheduled to open at the beginning of 2014.
ICON Gilding Conference & More
London, England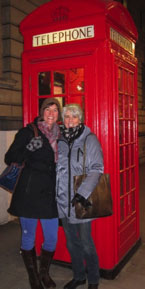 In March 2013, an ICON, Gilding & Decorative Surfaces Group conference, "Conserving Context: relating object treatment to collections & settings" prompted a trip to London. Sue Jackson and Allison Jackson made the weeklong trip together, packing in visits to museums, frame conservation labs, period frame studios and art supply stores as well as the conference.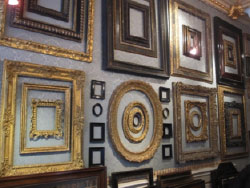 Eagle & Shield Restoration in Old Senate Chamber of the US Capitol
United States Senate
A major restoration of the Old Senate Chamber of the US Capitol was undertaken in 2011-2012. As part of this restoration, Harvard Art undertook the conservation treatment of the Eagle and Shield, the focal point as you walk into the Old Senate Chamber. More about this project...
Period Frames: History, Materials & Conservation
During 2011, Sue was invited to speak about period frames and her work as a gilding conservator. The resulting presentation: Period Frames: History, Materials & Conservation was given to the docents at The Currier Museum of American Art, Manchester, New Hampshire and then the Springfield Museums, Springfield, MA. The talk covers a brief history of frame styles, the basics on the art of gilding, how to distinguish between different gilded surfaces and the process of gilding conservation including examples from a variety of projects.
She will be giving this same presentation on Friday, February 10th at 7:30 pm as part of the Warner Free Lecture Series at Volunteers Hall, Harvard Public Library, Harvard, MA. You are invited to attend.
Period Frames: History, Materials & Conservation
Date & Time: Friday, February 10th, 2012, 7:30 pm
Location: Friday, Volunteers Hall, Harvard Public Library, Harvard, MA
Admission: Free
Sue is also available to lecture your staff or organization. Please contact her for scheduling.
sjackson@harvardart.com
(978) 456-9050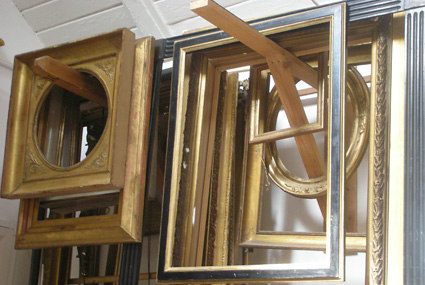 Frame for Portrait of George Peabody
Peabody Institute Library, Peabody, MA
As the story goes, George Peabody was not impressed with the first frame that adorned his 1866 portrait. To remedy the situation, he had a much grander frame made. During the summer 2010 and well into 2011 we had the pleasure of working on the resulting hand carved and gilded French frame. More about this recent project...
6 kW Photovoltaic System – Up and Running!
Harvard Art's new photovoltaic system was activated September 16, 2010 on a bright and sunny day. It was a powerful feeling to turn the switches on the control panels and see the electric meter start to go backwards! Many thanks to Cotuit Solar LLC and for the great job they did from conception to completion and with the grants they obtained which essentially made the project possible. Last sunny day, 34 kWh produced!
Frames: Noteworthy Surroundings
Frame Exhibit at Indian Hill Music, Littleton, MA
We are showing selections from our frame collection along with a few loans from colleagues at the Gallery at Indian Hill, Camilla Blackman Hall, Indian Hill Music, Littleton, MA. The exhibit features mostly 19th century American gilded frames with some European examples, including an 18th Century black Dutch ripple molding frame.
The exhibit runs the months of September and October, 2010.
Exhibit hours: Monday-Friday, 10 am - 8 pm & Saturday, 10 am - 5 pm.
Opening reception: Friday, October 15, 2010, 6- 8:00 pm.
Admission: Free
Governor Hutchinson Mirror
Milton Public Library, Milton, MA
Harvard Art was chosen to do the conservation work on a mirror that once belonged to Thomas Hutchinson, the last royal governor of Massachusetts Bay Colony. The American-made, 71-inch-by-44-inch gilt mirror, dates to around 1765, belongs to the Milton Historical Society and was recently reinstalled at the Milton Public Library in September, 2010.
A basket of flowers from the top of the frame had come off the mirror and was in scattered pieces. This central feature was put back together and missing elements from the basket and other areas of the frame were recreated, gessoed and gilded to match the existing surface.
It is interesting to note that this mirror frame has had several different surfaces throughout it's life. The evidence of the different surface treatments could be seen when looking at chipped areas on the surface. The originally off white paint color scheme was repeated 3 more times with subtle shade differences before a change was made to black paint. The current gilded surface is documented as being done in 1918.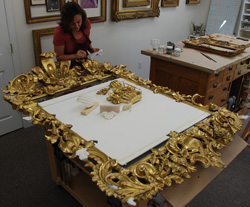 Harvard Art on Boston's Chronicle
Harvard Art was recently featured on Boston's well respected TV news magazine, Chronicle. Take a look at the studio and some of the works in progress. See two types of gilding: oil gilding which cures in about a week producing a matte finish and water gilding which can be burnished to a high shine in a couple of hours. Ah, the wonder of gold leaf….1,000 leaves equal the thickness of a dime!
Going Solar Spring 2010 - 6KW Photovoltaic System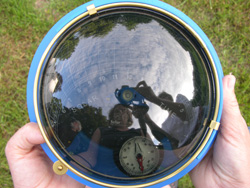 Harvard Art will be going solar this spring with the installation of a 6 kWh Photovoltaic Solar System. The grant experts at Cotuit Solar LLC were key in facilitating the approval of three different grants which will almost fully fund the system. The grants are: Rural Energy for America Program/Renewable Energy Grant from the US Department of Agriculture, a Massachusetts Technology Collaborative Grant, and a Department of Treasury Renewable Energy Grant. The 29 panels will be installed in the spring of 2010. We are looking forward to producing enough electricity to power Harvard Art.
Modular Cleaning Program Workshop
Skaneateles, NY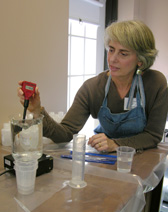 A retreat center on Skaneateles Lake was a great venue for concentrating on chemistry and the surface cleaning of works of art, this past November. The Modular Cleaning Program Workshop focused on the use of a computer program developed by Chris Stavroudis which assists in working with concentrated stock cleaning solutions. These solutions can be mixed together in different proportions, allowing the conservator to test a multitude of potential cleaning solutions and pick the cleaning system with the best result and leaving the surface in the best possible condition. Since gold leaf is only 1/250,000th of an inch thick, understanding it's cleaning, including the handling of any tone layers, is an essential tool in the treatment of frames and gilded surfaces.
Conservation Colleagues
Netherlands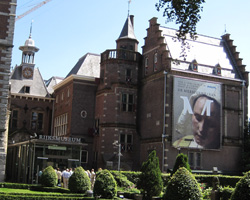 A trip to the Netherlands in June of 2009 provided Sue the chance to visit with colleagues, Hubert Baja of the Rijkes Museum in Amsterdam and Gini Kingma of the Rijkes Museum Twenthe in the town of Enschede. Attending conferences over the years has presented marvelous occasions for meeting gilding conservation colleagues from across the globe and form ongoing relationships, allowing us to share information on techniques and stay up to date on current projects.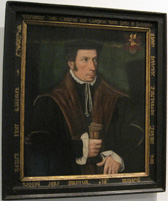 ICON Gilding Conference
London, England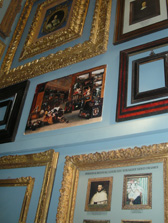 In April 2009, to stay abreast of recent developments in the field, Sue Jackson attended "Picturing the Frame - Attitudes, Context and Treatment from Conception to Consolidation". This conference was organized by the Institute of Conservation (ICON) Gilding and Decorative Surfaces Group, in London. An additional highlight of this trip was the opportunity to visit with colleagues and view their current ventures, at the Victoria & Albert Museum, The Wallace Collection and the studio of antique frame expert, Paul Mitchell.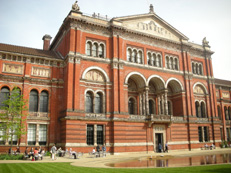 Conservation of the Permanent Collection
New Britain Museum of American Art, New Britain, Connecticut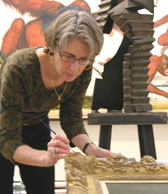 In April 2006, the New Britain Museum of American Art celebrated the opening of the new Chase Family Building housing twelve new galleries. In anticipation of the opening, Susan Jackson and the gilding conservation technicians at Harvard Art were asked to handle both onsite and in-studio treatments of over 100 frames in their permanent collection. Minor treatments such as stabilizing surfaces, minor cleaning and in-painting were accomplished onsite, while frames needing more attention were shipped to the Harvard studio. Overall, Susan Jackson worked closely with museum staff to ensure the frames surrounding this impressive collection of American paintings reflected the integrity of their collection.
French-American Partnership
Sponsored by the Foundation of the American Institute for Conservation (FAIC) and the Florence Gould Foundation
Harvard Art was chosen to receive one of twelve grants to host the 2006 French American Partnership. Our proposal was to host French gilding conservation and restoration expert Marie Dubost of the Atelier de la Feuille d'Or in Paris.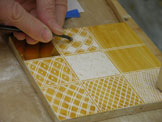 The goals of this project included the opportunity to: work directly with French conservators in our studios; learn additional craft and conservation skills from a master European craftsman; explore the differences in conservation education; develop sustainable international career exchanges; and invite French conservators to see some of the best American furniture and conservation schools in the United States.
While at Harvard Art, Marie focused her demonstrations on the traditional French technique of reparure (recutting gesso). Having apprenticed with a prominent master of recutting in the gilding workshop of Jacques Goujon, Marie was able to share legend and a wide range of historical insights on the reparure of gilded surfaces. Participants learned about the materials, tools and techniques associated with this distinctly French art.
The event culminated in a weekend seminar at the Winterthur Museum, Delaware. Here, Susan and Marie joined the eleven other participants from American sites.