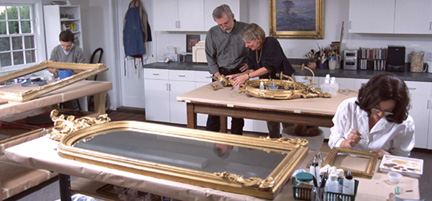 Harvard Art provides professional conservation of gilded objects, with particular expertise in period picture frames.
The company is led by Susan B. Jackson, an accomplished gilder and conservator and a Professional Associate of the American Institute for Conservation. Susan has a great depth of knowledge about the gilded surface and its preservation, having apprenticed as a gilder for two years before turning her focus to conservation. She has been a member of the board of directors of both the New England Conservation Association and the Society of Gilders.
Harvard Art is entrusted with historical objects from the finest museums and collections in New England and beyond. They find equal delight in working with individuals to take care of their collections, family treasures and objects of more sentimental than monetary value.
Founded by Susan Jackson in 1989, the Harvard Art team has today expanded to include several conservation technicians.
"Our goal, as we handle this fragile medium," says Susan, "is to make the period objects appear to have aged well."